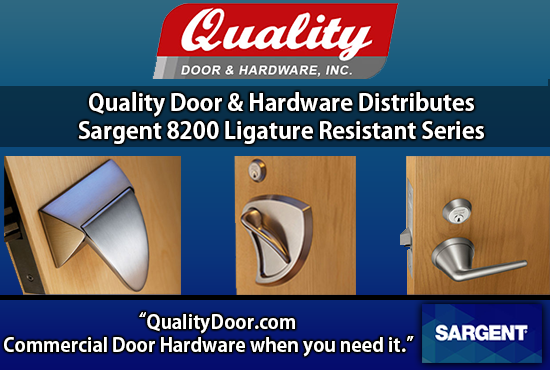 Qualitydoor.com has a large inventory of Sargent commerical door hardwarew. One of  Qualitydoor.com's bestsellers is the SARGENT 8200 Series Mortise Locks. We recommend the SARGENT 8200 Series ligature resistant mortise locks to any mental healthcare facility, hospitals, medical offices as well as other health facilities where self-harm is a critical issue. The SARGENT 8200 Series comes in 3 types of ligature resistant trim: ALP, BHW, and BHL.
SARGENT 8200 Series
with ALP trim provides a heavy duty, durable, long lasting and aesthetically pleasing lock. Appropriate for behavioral healthcare settings and sleek enough for healing environments, this trim offers multiple mounting options and easy operation, even when your hands aren't free. A great ligature reistant option for your healthcare facility.
SARGENT 8200 Series with BHW trim
combines its sleek aesthetic with safety due to its integrated lever. Ease of operation, along with the strength and versatility of the 8200 Series mortise lock allows its use in many applications with a ligature resitant trim.
SARGENT 8200 Series with BHL trim
is applicable in any healthcare environment due to its array of functions. The sloping surfaces with overlapping rose and lever addresses many safety concerns common in all types of healthcare facilities. The Sargent 8200 Series BHL Trim Lock provides the strength, durability, versatility and reliability needed in tough healthcare environments. A great ligature resistant option for your healthcare facility. Qualitydoor.com is Veteran owned and operatored and holds two Gsa contracts on schedules 56 & 84. For customer service call us at 800.992.3667 or email sales@qualitydoor.com
"QualityDoor.com Commercial Door Hardware when you need it."