Qualitydoor.com wants to make the process of choosing a Sargent panic devices/exit devices easier. So lets dive into the different types of commercial exit devices. Rim Devices, Surface Vertical Rods, Concealed Vertical Rods, Mortise Exits, and Electric Latch Retraction Panic Bars: What are these and what do they do?
Rim Exit Devices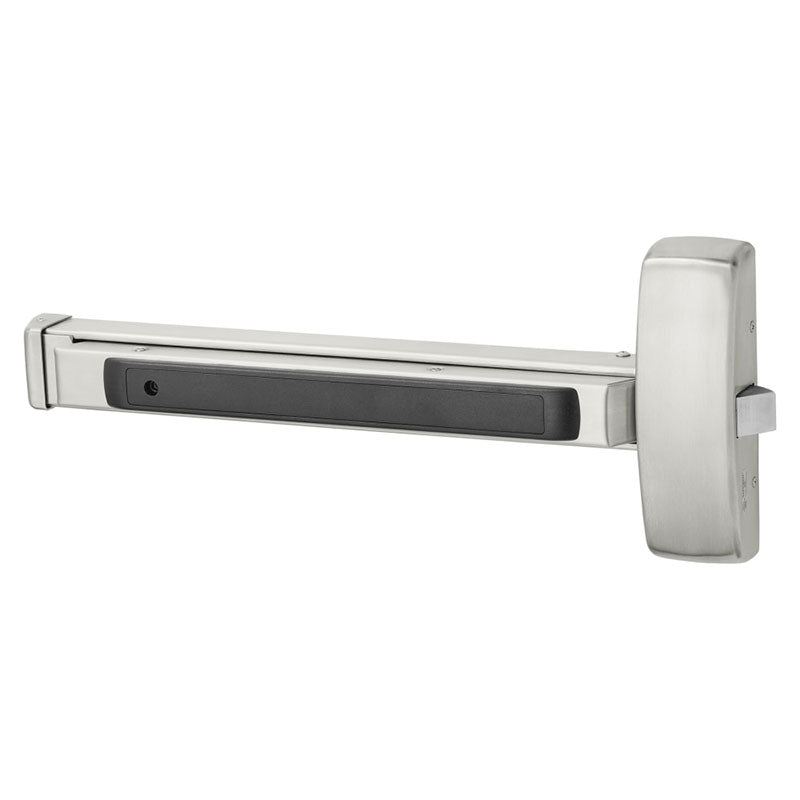 A Rim Exit Device like the
Sargent 8800
can be used in high traffic areas, either a single or double door using a mullion in the middle. Rim Devices come with surface strikes, are easy to install, and provides the highest security.
Surface Vertical Rod and Concealed Vertical Rod Exit Devices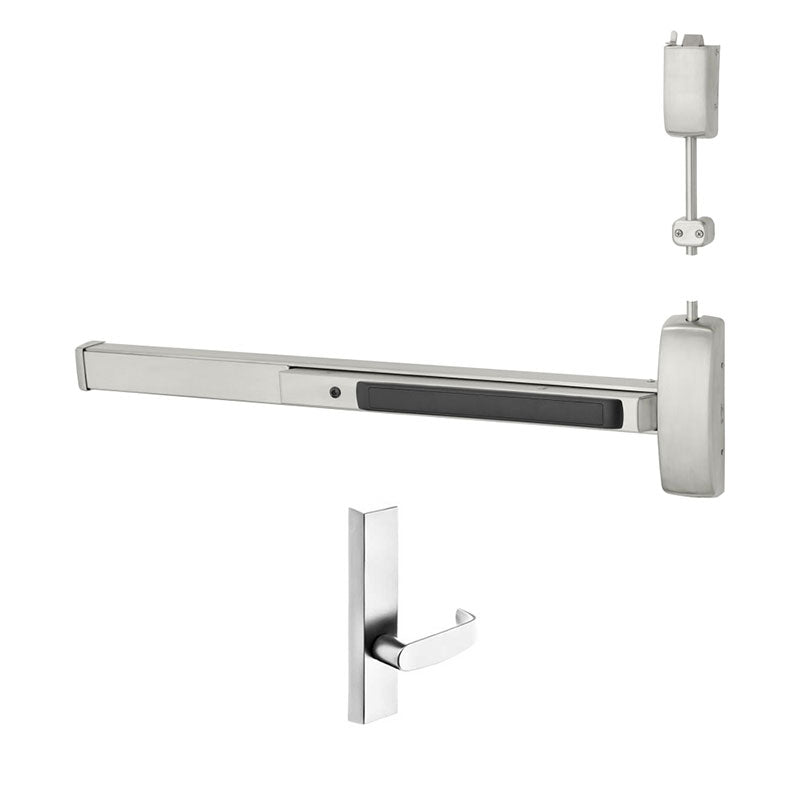 Surface Vertical Rods like the
8700 Series
and Concealed Vertical Rods like the 8400 or 8600 series are used in pair doors only. In both applications, the strike latches into the head of the frame via a surface mounted or recessed strike. Surface Rods are surfaced visibly on the door, while the concealed are aesthetically placed in the door so you do not see the rod.  If maintenance and having access to the rods are of concern, we recommend the Surface Vertical Rod. However, if aesthetics is your top priority, go with the Concealed Vertical Rod.
Mortise Panic Devices
Mortise Panic Devices like the Sargent 8300 and 8900 series are best suited for high traffic situations. They are offered in several functions that you cannot get from a Rim Exit, Surface Vertical Rod, and/or Concealed Vertical Rod Exit Device. Mortise Panics are used at single door openings and are a good option when security, reliability, and high traffic is of concern.
Electric Latch Retraction Panic Bars
Featuring a rugged construction designed for functioning reliability, Sargent Electrified Panic Bars are used in a plurality of use cases such as Schools, Hospitals, Gov facilities, and other Institutional high traffic facilities. With quiet operation and solid security, Sargent electrified panics can be ordered for Rim exits 8500 and 8800 series, 8700 surface vertical rods series, 8300 and 8900 Mortise Panic Devices, and the Concealed Vertical Rod Devices 8400 and 8600 series. Electric Latch Retraction Devices can be integrated and combined with auto operators, power supplies, door loops, keypads, card swipes, and many other access control configurations to meet all of your building needs while adhering to the latest Ul fire codes and Industry standards.
All Sargent 80 Exit Devices are ideal for environments that require strong and durable security solutions. They exceed ANSI/BHMA Grade 1 requirements for cycle and strength and support unique applications.
Qualitydoor.com is the trusted source for all of your Sargent Door Hardware needs. We have a large inventory of Sargent Panic/Exits Devices that ship within 24 hrs to one week of order placement. Established in 1988, QualityDoor.com is Veteran Owned and Operated as well as holding two GSA Contracts on schedules 84 and 56. Call 800.992.3667 or email us at 
Sales@qualitydoor.com
.